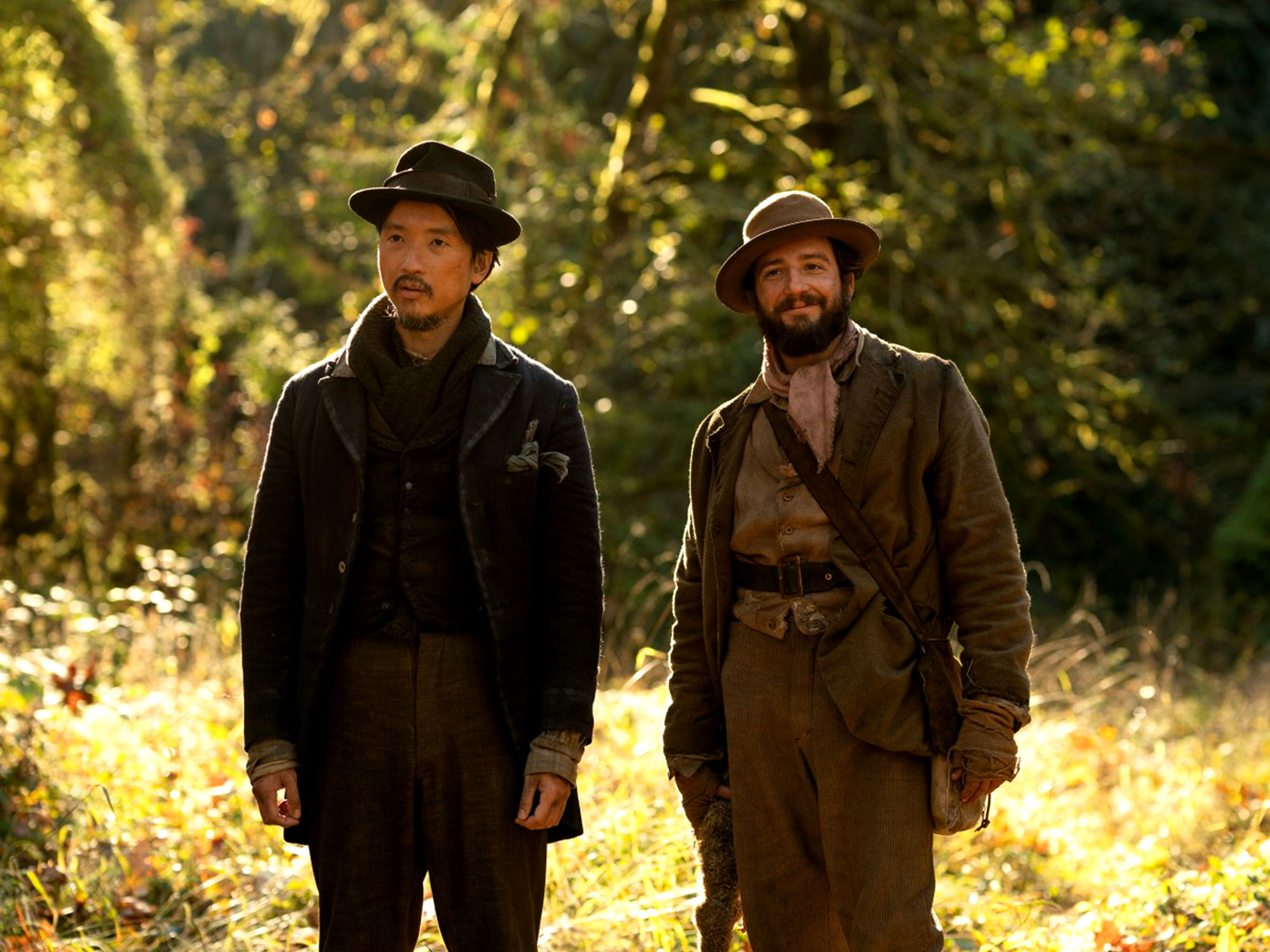 With First Cow, Kelly Reichardt, America's foremost chronicler of small stories rooted in meticulously-crafted geographical expanses, has delivered another slowburn heartbreaker. The setting is 1820s Oregon in a settlement of beaver-trappers. Jonathan Raymond's source novel, 'The Half Life', has another timeline set in the present-day, which is pared back here to a brief yet ominous prologue featuring Alia Shawkat and a dog discovering something in the ground.
Meanwhile, back in the 1820s, the quietly spoken Cookie Figowitz (John Magaro) finds King Lu (Orion Lee) naked in the woods and helps him to escape from bloodthirsty Russian pursuers. The pair run into each other again, at a later interval, at which point the film's true theme of friendship begins to bloom. A sequence of them nesting – Cookie beating the dust out of a rug while Lu chops wood – drives home that this is narrative centred on sensitive, practical men in harmony with one another.
Lu is in thrall to the American Dream, prone to talking aloud about how he can ascend to a more monied station in life. Cookie is usually found in a state of watchful silence, but has his own dream: to open a bakery. This is the skill that Lu ends up harnessing as a business opportunity. It transpires that delicious "oily cakes" are exactly what people want at a beaver-trapping settlement in 1820s Oregon. Some are willing to give a generous number of ingots to sate this hunger for sweetness.
In the press conference following the film's Berlin Film Festival screening, Reichardt spoke about borrowing a canoe from a museum; Lee said that he learned to make rope from grass, as well as fragments of First Nations language. His character is a Chinese immigrant who has taught himself to communicate with the Native Americans who are shown living with and around the white settlers.
The look of the film is constantly transfixing. Vivid world-building leads to a picture that thrums with tactile energy. Whether its dirt under the fingernails of a large, bearded man carrying a baby in a basket, or a Native American girl heaving a bucket of milk that splashes onto her mauve dress, or René Auberjonois (who sadly passed away at the end of 2019) standing still with a raven on his shoulder, First Cow pulses with painterly and poetic details.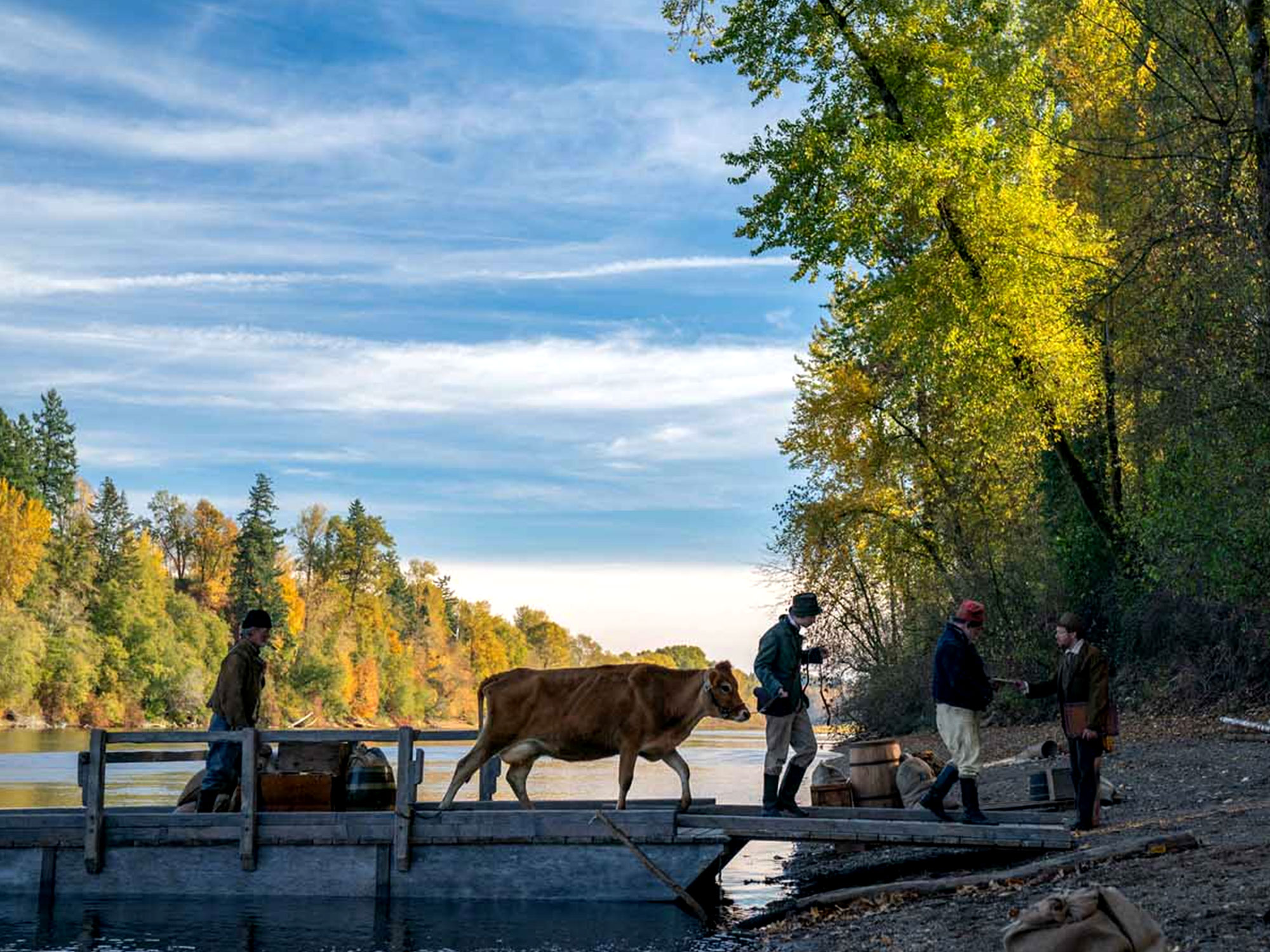 There is also a surprisingly hearty sense of humour here. When the titular cow rolls into town, it does so via raft. Reichardt lets the scene play out in almost real-time, as everyone watches, mouths agape. The cow attempts a regal stillness that only amplifies how absurd it looks to see a cow on a raft.
Said cow belongs to Chief Factor (Toby Jones), the rich, white overseer who has a Native American wife (a cameo from Lily Gladstone) and believes that killing one slave in front of a group can be motivational to work ethics. Even he is afforded a hilarious introduction as he loses his mind over how delicious the oily cakes are, and proffers Cookie the compliment, "I commend you, sir, for this delicious baked comestible," a line delivered with fervour by Jones.
While there is no shortage of scenes which serve as sources of unexpected levity, dramatic tension builds slowly as Cookie's cake-making process puts him and his buddy into nightly danger. Yet, as fans of Reichardt's work will know, she never contrives tension. She draws the world then lets the conflicting elements of it play out with understated naturalism. The real tension here is between the haves and the have-nots. As twas ever thus, the world is risky for have-nots attempting to move up. It threatens the haves, even though they have nothing to fear by contrast.
Although in the social portraiture is bleak in First Cow, there is a lushness in the green landscapes, the white light and the warm and respectful way that Cookie and Lu interact with their world and each other. There are visual and thematic parallels with Debra Granik's Leave No Trace, as well as Reichardt's own Old Joy from 2006. The meek may not inherit the earth, but during the fleeting moments that they are allowed to commune with it, there are flickers of the peace that could be.
The post First Cow – first look review appeared first on Little White Lies.