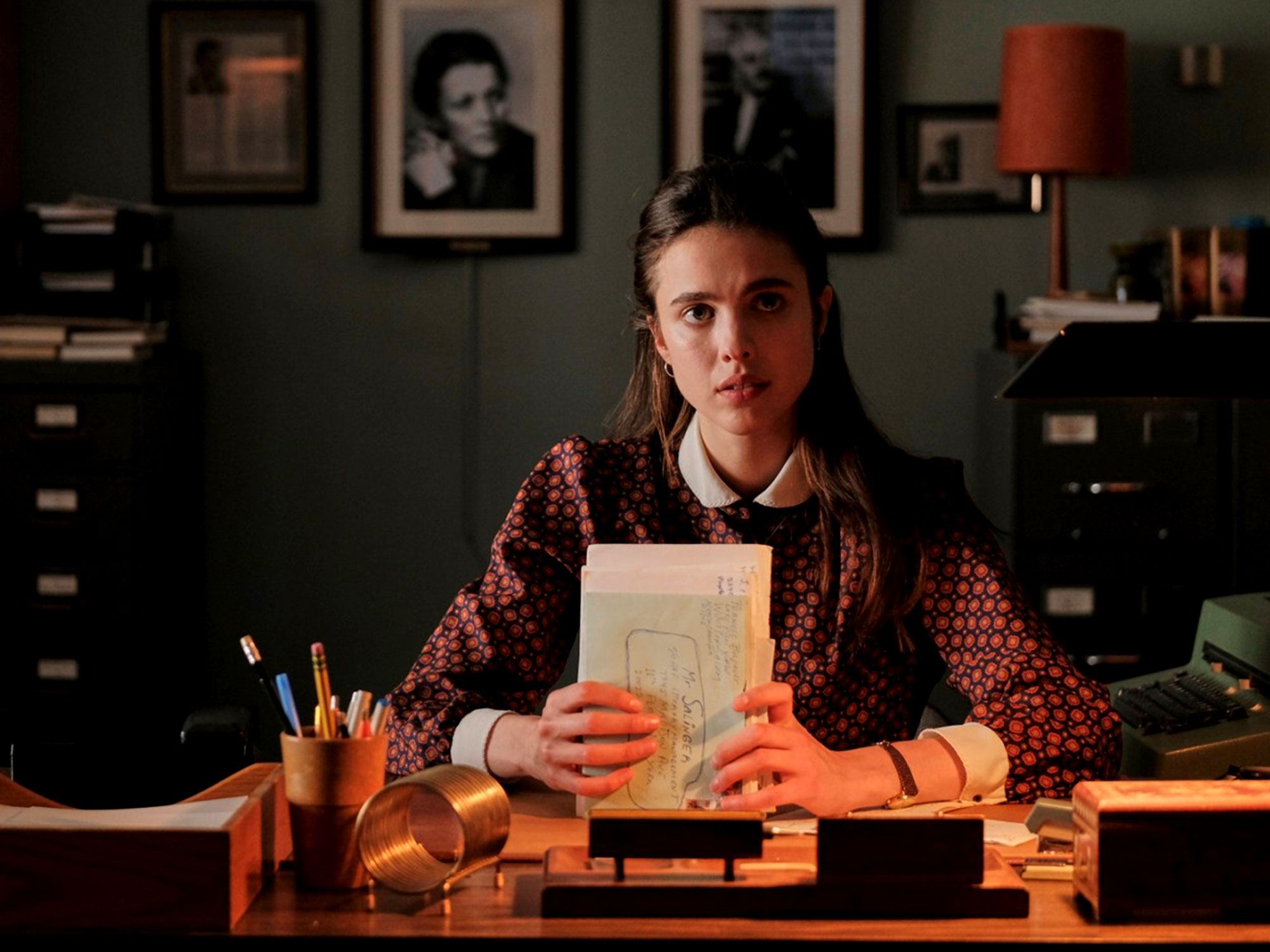 In My Salinger Year, a refined, sensitive adaptation of Joanna Rakoff's eponymous memoir about her stint working as an assistant at New York's oldest literary agency, Margaret Qualley plays Joanna, a young student who leaves her studies and boyfriend Karl in California to make it in the Big Apple.
When Joanna lands a job as an assistant at "the agency" (actually Harold Ober Associates but unnamed in the film and Rakoff's book), she is warned about taking great care in dealing with an important client, referred to simply as "Jerry". As one may surmise from the title, Jerry is JD Salinger. By 1995, when the film is set, the agency had been refusing to pass on fan mail to recluse Salinger for more than 30 years, while still sending boilerplate rejections back to fans.
This onerous task is given to Joanna in between bouts of typing dictation for her boss Margaret (Sigourney Weaver), and as she reads back the sad, hopeful and desperate letters, the writers appear on screen, speaking directly to camera from their offices, fishing trips and ice-cream parlour jobs. It's a gently imaginative touch in a film that's performed and shot with care but could do with more flourishes of this kind. There is also a brief, delightful dance sequence later on, but otherwise director Philippe Falardeau captures the stuffiness of agency life a little too well.
When Joanna breaks etiquette and responds to a fan letter with honesty, one half-expects the film to detour into territory explored in Marielle Heller's superior Can You Ever Forgive Me? – a New York literary memoir with vivacity and energy to spare. As it is, we're stuck with The Devil Wears Prada for bookworms. This is not to say the film is joyless though. There is fun and heart in Joanna's burgeoning phone friendship with Salinger himself, and Qualley brings plenty of charm to her wannabe-poet gamely tackling clerical work.
Inevitably, Joanna is entrusted with more important aspects of her job, such as coaching an independent publisher ahead of an important, secret meeting with Salinger. She aces that and is later tasked with real agent work such as selling author stories to magazines. The newfound confidence affects her personal life when she gets shot of loser boyfriend Don (Douglas Booth, playing a douchebag yet again) after he refuses to take her to his best friend's wedding.
Weaver is typically excellent as severe, set-in-her-ways Margaret, and there is mild mirth in her rejection of the computer age, as well as pathos when she suffers grief at the death of a loved one. The trouble with Margaret's characterisation – while it may be true to the book – is that there's not enough bite. A pleasant and diverting film, then, that may leave you craving more of the egotism and rancour that seems to seep from every pore of New York's literary scene.
The post My Salinger Year – first look review appeared first on Little White Lies.