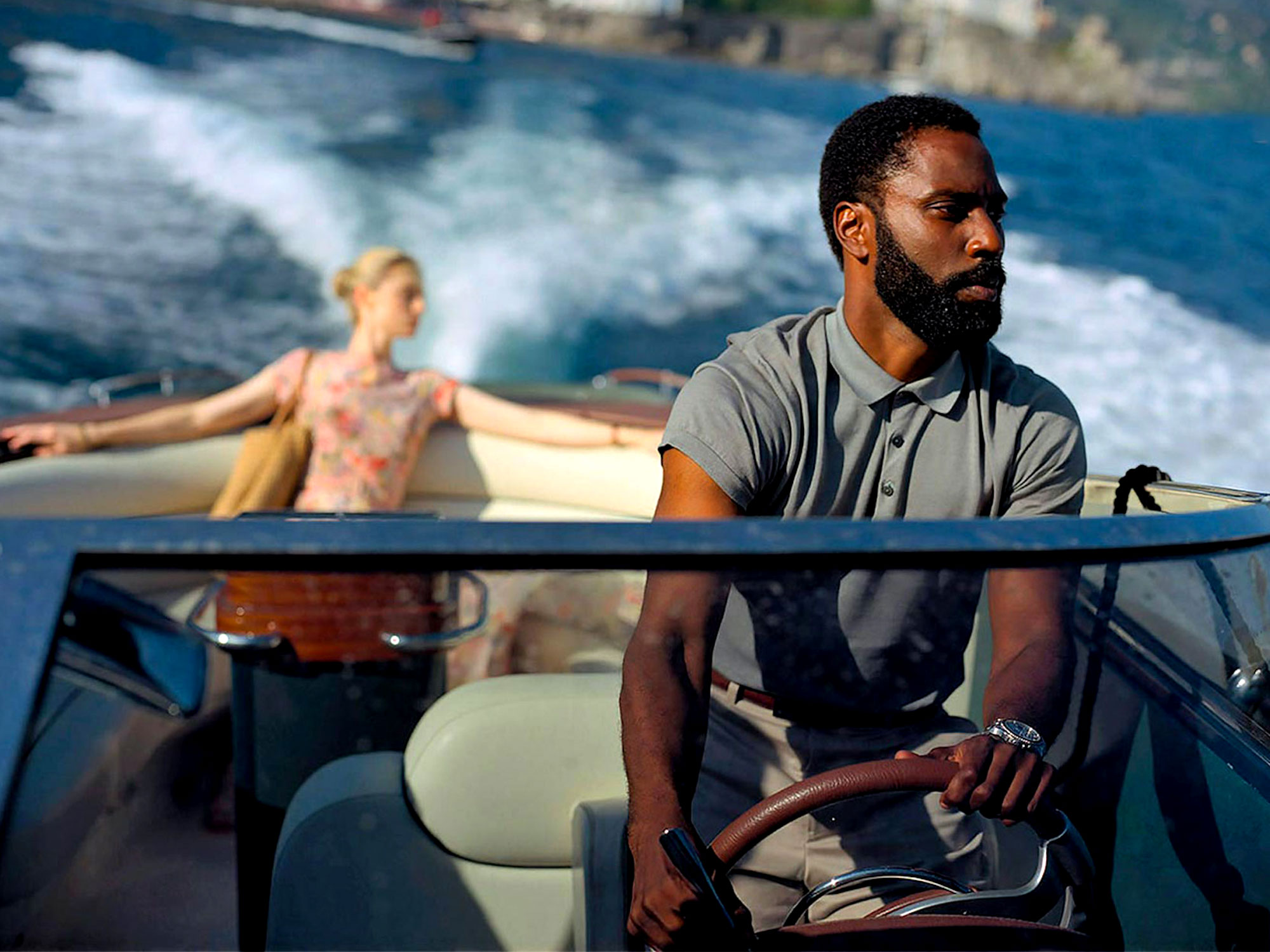 Christopher Nolan is Hollywood's favorite Brit, enjoying the stature of a limey Steven Spielberg capable of bending the machinery of the industry mainstream to his creative will. He's one of a small handful of filmmakers able to put audiences in seats on their name brand alone – though to be safe on his latest feature, he's also hired a bunch of movie stars and harnessed what appears to be the largest budget of his career.
Below, we've gathered all of the available intel about Nolan's top-secret new project, a sci-fi thriller with sky-high stakes. By the sound of it, Tenet is a massive clandestine operation about a massive clandestine operation, the purest refinement yet of the Nolan filmmaking ethic.
While the previously released trailer divulged the broad contours of the plot, much remains a mystery. John David Washington stars as a secret agent tasked with a vital mission: preventing the outbreak of a third World War. That's pretty by-the-book espionage-flick stuff, the twist on the formula here being that he must use time-travel to right history.
The trailer makes mention of a fate worse than nuclear holocaust, which raises the question of what could possibly be farther down the line than that. Presumably it has something to do with the car flipping over and then un-flipping over backwards, or the gargantuan steamer ships cutting a path through the water in reverse.
Whatever the case, Washington's character will ally himself with a cast well-stocked with stars eager to get a cerebral blockbuster on their résumé – a line-up that includes Nolan regulars Michael Caine and Kenneth Branagh alongside newcomers Elizabeth Debicki and Robert Pattinson.
The rest of the personnel is equally intriguing: Nolan reunites with his Interstellar and Dunkirk cinematographer Hoyte van Hoytema, while bringing on Oscar-winner Ludwig Göransson as composer of the score. (You may know him as the talent behind the Black Panther incidentals.)
More exciting than any particular detail about this gestating film may be the simple impression of its sheer scale. Everything that's leaked so far suggests an unprecedented undertaking, from reports of Nolan shooting across seven countries to a rumored budget exceeding $200 million USD. Nolan doesn't do small movies, not anymore, but this still sounds like it's in a different league.
While the meaning of the codeword 'tenet' will remain an enigma until the release (perhaps it's a reference to former CIA director George Tenet, a secret agent of sorts), that won't be much longer. Warner Bros has set a worldwide release date of 17 July, and don't expect a festival berth at Cannes prior to that. Nolan has never been much for the festival circuit, and the studio will undoubtedly want to keep a lid on plot details for as long as possible.
Nolan's films meet with such fabulous success for marrying the popcorn thrills of a tentpole summer blockbuster with more serious-minded thematic and stylistic discipline. Nolan believes in taking the hard way, and judging from the wild stunts on display in the trailer (men getting catapulted onto vertical walls, giant water-striding seacrafts flitting through the waves), he's up to his old tricks.
Tenet opens in cinemas on 17 July.
The post Everything we know about Christopher Nolan's Tenet appeared first on Little White Lies.