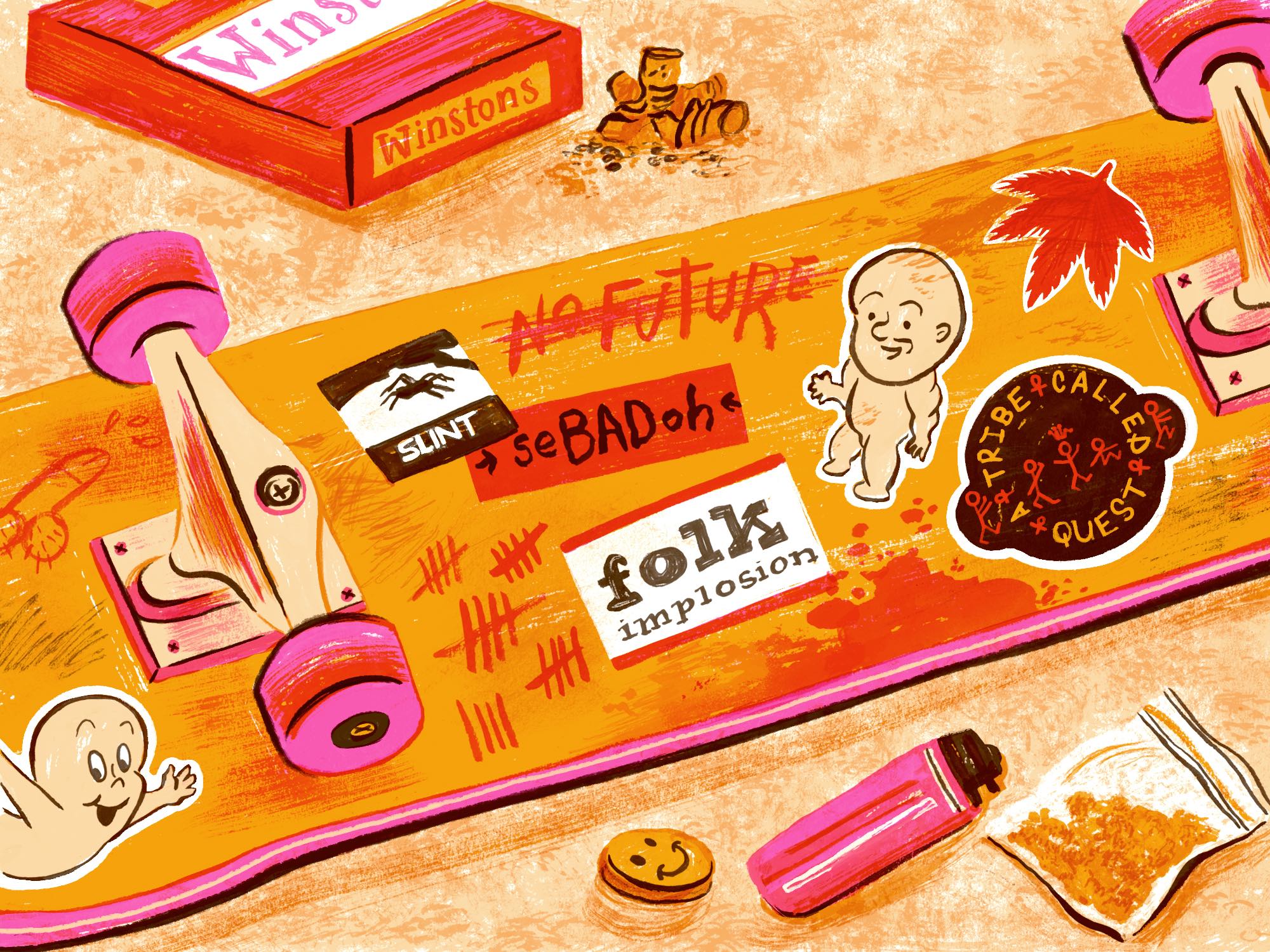 The first time musician and rap producer Clams Casino (real name Michael Volpe) saw Kids, he was huddled around a TV set with a group of fellow teenagers in the backroom of a New Jersey skate shop. "You could instantly tell it was different," the now 32-year-old remembers. "The film already had this legend around it so it felt like we were breaking the law just by watching it or something."
With its unflinching look at sex, drugs and toxic masculinity within a gang of New York teens, Kids became instantly notorious: New York Times' critic Janet Maslin described the film as a "wake-up call to the modern world." The way it reconfigures the AIDS crisis as something that could also impact white heterosexual teenagers shook middle America, making parents question exactly what their children were up to during the Clinton years – their worst fears manifested.
Yet for Clams, Kids was merely an accurate representation of what life was like for young people from 'round the way'. The intimacy and grittiness of the film's setting, coupled with an abundance of wide-leg trousers, tie-dye t-shirts and Converse, captured '90s street culture in a way that felt totally authentic. "There was just something so real about Kids," he says. "The way those kids spoke to one another was so spot on it almost felt a little voyeuristic, but the fact we were seeing real teenagers on the screen and not sugar coated ones made it a really exciting thing."
But if Kids' aesthetic, which has since been copied by everything from HBO's Euphoria to Jonah Hill's Mid90s, won Clams over, it was the film's gloomy soundtrack that truly changed his life. The music switches fluidly from dissonant indie (Daniel Johnston's 'Casper the Friendly Ghost') to urgent street rap (A Tribe Called Quest's 'Oh My God'), reflecting the way teenagers can go from embodying supreme confidence to feeling completely disconnected from their surroundings. It also spoke deeply to an aspiring musician who relished blurring genre lines.
"The music captures every emotion you can think of," Clams explains, "there's that intensity of being this horny teenager, then confusion, before going back into fun and then the haunting comedown. The soundtrack shows how being a teenager is a roller-coaster ride, emotionally, in such a perfect way. It was also one of the first times I saw kids who liked punk just as much as rap. It was like validation that I wasn't alone."
A lot of the songs, particularly Sebadoh's 'Spoiled' and Artifact's 'Wrong Side of Da Tracks', have a natural lo-fi sound. It's as if they were recorded straight from a busted cassette machine, adding to the sense that the characters on screen are rough around the edges and still finding their place in the world. This is a prominent aspect of Clams' own work. One of the architects of the DIY sound of Soundcloud rap, best known for his pioneering work with the likes of Lil Peep, Mac Miller (who even made a mixtape dedicated to Kids), A$AP Rocky and Vince Staples, Clams' production is full of stabs of distortion and the unmistakable hiss of tape – something he says he learned directly from the film.
"I was blown away by those granular textures on the Kids soundtrack, and I think that came out when I started doing production myself. Kids is embedded deep in my brain somewhere and just comes out without me thinking. If you listen to those dusty drums [on Lil B's 'Unchain Me'] then you can see how the Kids soundtrack changed my ear. There's so many conflicting genres, but they all fit together and it makes perfect sense. It's hard to achieve that as a producer, but it's something that I always try to do."
This is evident in Clams' latest record, 'Moon Trip Radio', which splices various genres to create an atmosphere that's unashamedly moody and melancholic. None of its songs would sound out of place on the Kids soundtrack, with introspective cuts like 'Twilit' and 'Soliloquy' capturing that existential darkness that grows as teenagers begin to experience growing pains and make bad decisions.
Clams is a man of few words who doesn't give much away; happy existing in the shadows rather than being a celebrity rap producer who flexes on Instagram. But it's clear that he wouldn't be where he is today if he hadn't walked into that skate shop and watched a film about a bunch of foul-mouthed rebels.
"It's just one of those films that shakes your core and stays with you. The themes of brotherhood, maturing and feeling like you don't fit in will never not be relevant. It was scary in many ways, particularly what happens to Chloë Sevigny's character, but it also showed the world what really happens. You can't watch Kids and forget about it, and I want people to have that feeling after they listen to my music too. It should stay with you."
The post Know The score: Clams Casino on how Kids changed his life appeared first on Little White Lies.